Island Hopping in the Philippines- 8 days
Island Hopping in the Philippines- 8 days
8 days & 7 nights over New Year's Eve 2020 | Think turquoise blue waters, secret lagoons, cave exploration, snorkeling stops in the clearest water in the world (no exageration), experiencing the warm hospitality of locals, and best of all––ringing in the new year with an adventurous group of fun-loving thinkers & doers.
Included
A mix of boutique hotels, 2-3 nights glamping when we're on the islands, and private villas.

Transportation once we're in the Philippines (including private transfers and flights to the islands)

Private boat expedition, national park admissions, and conservation fees

Breakfasts and freshly- caught meals on the boat expedition

Our personal local and knowledgeable guide

Invitation to meet your travel cohort before the trip
Not Included
Flights from your home country

Travel insurance (not required, but recommended)

Meals and drinks not listed above and going out.

Additional activities like not listed on the itinerary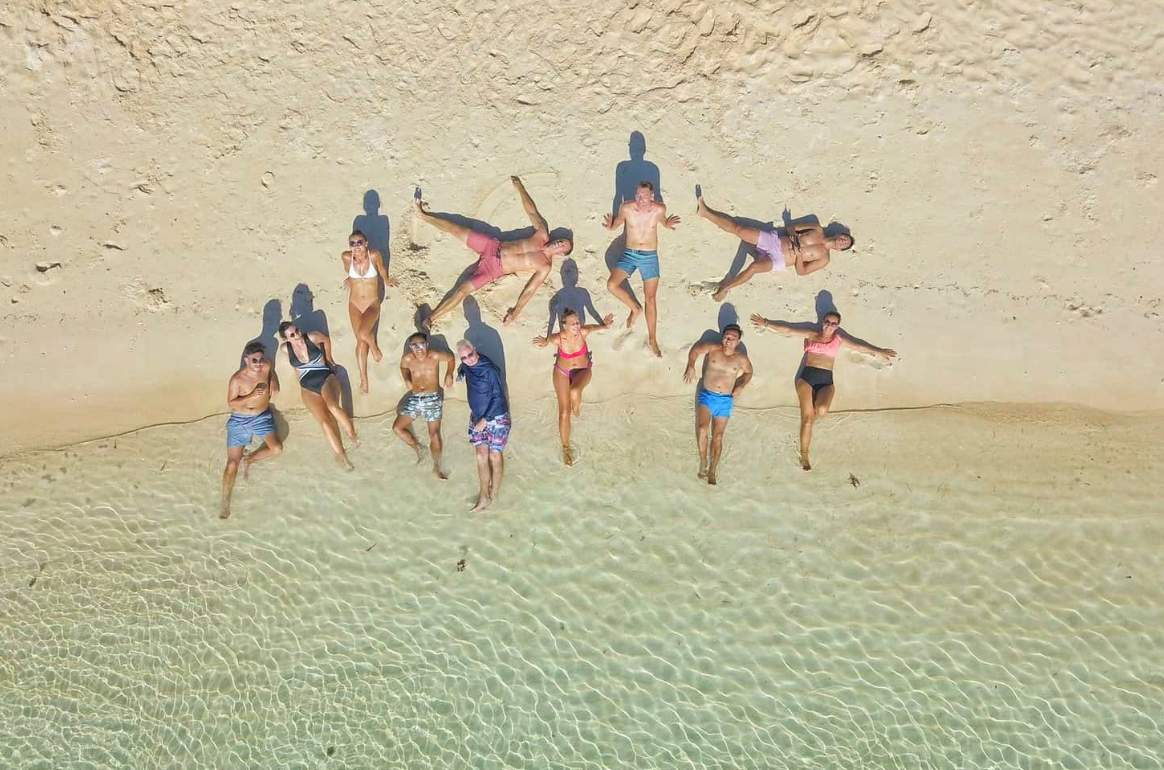 Day 1: We start in Manila. Flight to Puerto Princesa, a coastal city on Palawan Island in the western Philippines. It's home to dolphins, turtles and rays.
Day 2: Today we'll paddle through the Underground River, a UNESCO World Heritage Site. In the evening, we'll head to El Nido for a beachside dinner.
Day 3: El Nido Bacuit Bay & Northern El Nido (Beaches, lagoons, and snorkeling stops)
Day 4: Linapacan and surrounding islands. Our route will take us through a submerged shipwreck, Calibangbongan Island, Cobra Island, Kala Kala/ Lacalaca Island, where we'll dip into the clearest water in the world.
Day 5: Linapacan & El Nido (Beaches, lagoons, and snorkeling stops with a hidden gems outside of typical tours.
Day 6: We'll head back over to El Nido and replenish at Bacuit Bay before flying over to Boracay, where we'll be minutes from Happy Dreamland and Balinghai Beach.
Day 7: We spend the day jumping from boat to beach and hitting stops like Crystal Cove Island, Crocodile Island, Magic Island, and Puka Beach. Then we ring in New Years Eve!
Day 8: We end our magical time together with a light breakfast and flight from Boracay back to Manila, beautifully spent, nicely sunkissed, and happily fulfilled. Those who choose can stay in Manila for an extended tour.
Our community of positive, driven and curious travelers are the special sauce of our trips, and we're grateful to have them. Read more about what they have to say about our trips here.
What are accommodations like?
A mix of will a mix of boutique hotels, 2-3 nights beachside glamping when we're on the islands and private villas.
How many people can join a tour?
Our international trips tend to be around 8-12 people. We keep sizes small so you build tight bonds and get more attention from our local guides.
What will my travel cohort be like?
We're a community of independent people driven by purpose, discovery and fun. We live for travel rooted in adventure and experiences that push us out of our comfort zones.
How do you keep trips affordable?
We strongly believe in a to the communities we visit, so we partner local communities to in not only benefits the local economy but also helps to keep costs lower than they otherwise would be. We partner with vetted guides and local operators to pass savings on to you. Your money is spent on providing an authentic, comfortable, and fun experience.
Can I book extra nights of hotel accommodation before or after my tour?
Yes, you will be responsible for additional costs, but we can help you arrange additional accommodation at our starting or ending accommodations. Just let us know at least 2 months before your date of departure.
Should I tip local guides and if so, how much should I budget?
Tips are not included in the tour price and tipping is entirely at your discretion. We will go over this in our pre-trip chat.
I have food allergies / don't eat gluten / am vegetarian, can I be accommodated?
Yes, so long as we have details concerning what allergies you have / any dietary restrictions so we can accommodate.
I see you travel to several destinations that are considered risky – are your trips safe?
Yes, we take safety very seriously and work closely with our guides and networks to monitor travel advisories. Because we work so frequently with our guides we are agile in making quick changes as needed.
What if something happens to me or my personal belongings?
As with all travel and physical activities, there's an element of risk. Unfortunately, Map&Move cannot be liable for any harm to you or your belongings. But we make every effort to take precautions. So once you're signed up for a trip, you'll be introduced travel cohort in advance so we can talk about safety how to prep how to take precautions and how to be a smart traveler not just for the trip you signed up for, but in life.
Can I join a tour late or leave it early?
Yes, we always leave some flexibility on the first and last days of the trip so you can meet the group later if your flight arrives after the rest of the group. You may miss some activities, so be sure to let us know so we can coordinate. If you arrive before or decide to stay later than the tour dates, you're responsible for your own arrangements, as well as any costs associated with it.
Can I come alone?
Yes! Our trips are a good fit whether you're a solo traveler or you want to meet a whole new cohort of traveler. Our groups are designed for the safety, connection, and support. Therefore, there's zero pressure to stick with the group anytime.
What if I want to do something that's not on the itinerary?
So if you want to venture off to a museum or try a different restaurant, by all means: do it! The group will only be expected to stay together for transportation between cities or anytime our guides ask that for safety.
Do I need travel insurance?
It's not required, but we recommend it. Some credit cards already include some sort of travel insurance, so check the terms to see if you have any coverage. Travel Insurance is a site we like to find and compare affordable travel insurances.
What days and times should I book my flights?
While our trips don't include flights, we're more than happy to advise on them! We'll give suggested flight times and ways to save once you reserve a spot on the trip. Please check with us before booking flights so we can coordinate your arrival time. If you prefer to have us book flights for you, we can do that for an additional $100. Get in touch for this option.
What vaccinations should I get for my trip?
We will give general advice on suggested vaccinations to the destinations we are visiting. But it's important for you to also check the most accurate and up-to-date travel health information and consult your personal physician or a specialist from a Travel Health clinic. This is required if you have any pre-existing conditions.
Do I need a visa?
This depends on your nationality and passport. US citizens don't need a visa for travels to South Africa, as long as they are within 30 days. If you're from another country, please check with your own country's requirements. If you have questions, we can advise.
What should I pack?
You'll be getting a suggested packing list ahead of time but we always recommend packing light since we will be traveling to different destinations.
What is the most appropriate type of luggage to bring?
We recommend bringing a backpack or duffel bag, since suitcases can be cumbersome and hard to store in our transport vehicles or under seats, etc. You'll be carrying your bags in and out of accommodations.
Want to meet more fun-loving thinkers & doers? Join our Facebook community here.